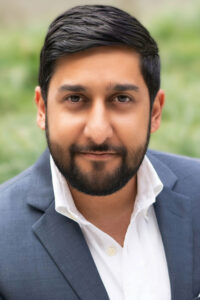 Eiman Siddiqui is a legislative and public policy professional with nearly a decade of experience in the Texas Legislature. Eiman joined Davis Kaufman PLLC from the office of State Representative Tom Oliverson where he served as Chief of Staff and Director of Policy for Chairman Oliverson and the House Committee on Insurance. He previously served as Capitol Director for State Representative Rick Galindo and Policy Analyst for Chairman Jim Murphy.
Eiman's accomplishments including passing over 80 bills, national model laws, and leading complex multistakeholder negotiations. Eiman's broad range of policy knowledge includes expertise in matters of insurance and healthcare as well as proficiency in land development, technology, and taxation policy.
Eiman's experience spans beyond the Texas Legislature and includes national organizations such as such as the National Council of Insurance Legislators, National Conference of State Legislatures, and the American Legislative Exchange Council. A graduate of the University of Houston, Eiman is the past Curator of the Austin chapter of Global Shapers, a board member of the Austin Symphony BATS, and a Volunteer Co-Chair with the Texas Book Festival. When not travelling or golfing, you can find Eiman cheering on the Liverpool soccer team or any Houston home team.
Download vCard